Thiru Aavinankudi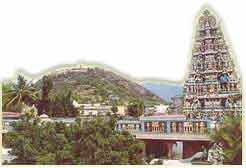 Kulandai Vêlâyudhaswâmi Thirukkovil
This ancient and large temple at the foot of the hill is the third Padai-Vîdu celebrated in song, classics, legend and tradition since antiquity. The official name of the shrine is Kulandai Vêlâlyudhaswâmi Temple; Thiru Avinankudi is the name of the place. A sacred tank is attached to the temple.
Thiru Avinankudi is among the earliest abodes of Muruga and perhaps it had humble beginnings under the shade of the Nelli tree (amla). Poet Nakkirar says that God Muruga holds at Thiru Avinankudi a Royal Court of all gods with saints emancipated and clad in saffron-dyed clothes and deer skin. The presiding deity is Muruga as a child sitting on a peacock. A convenient and full view can be taken by the worshippers since the sanctum is on an elevation. He is like a kindly monarch on His throne who receives the humble tributes and petitions of His loyal subjects. The festival deity and the Nelli and Nagalinga flora and the shrine of Arunagirinâthar are worth your notice.
The temple was renovated lavishly between 1898 and 1910 by N. M. Subramanian Chettiar of Karaikudi and K. P. S. Palaniappa Chettiar of Kandanur. SP. Ramanathan Chettiar and other members of the first donor's family have added in 1968 a majestic râja gopuram — one of Palani's landmarks visible from the hill-temple. Since the late 1970's, a few small shrines and an artistic mandapam have been constructed, adding to the beauty of an already beautiful temple.